Surgical Microscope for Dentistry Zeiss OPMI Pico MORA with Camera System on a wall mount
To see the pictures at higher resolution, click the image below.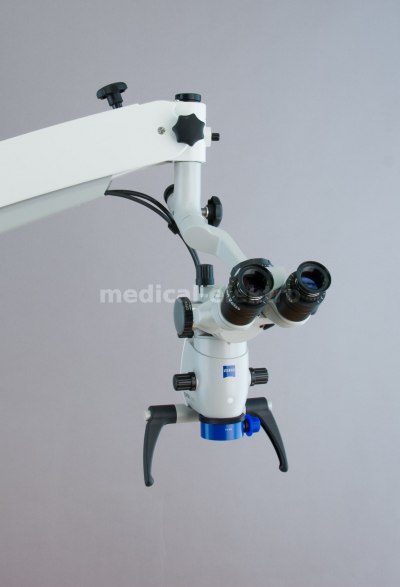 Producer:
ZEISS
Model:
OPMI PICO
Technical condition:
Very good

SOLD

The prices in PLN and EUR is not a binding offer in accordance with the regulations of the Polish Civil Code and are given for informational purposes only. To obtain a quote, please contact our sales department (more informations).

The prices in EUR depend on the exchange rate and are updated daily from Monday to Friday according to the average exchange rate of the Polish National Bank (Source: http://www.nbp.pl/home.aspx?f=/kursy/kursya.html).
Description
Used, manually controlled dental microscope Zeiss OPMI Pico Mora on a wall mount.
This microscope is fully functional and in very good condition.
We sell equipment which is tested several times. We check and fix all the parts that require it. To be sure, we test our devices once more before shipment to the customer.
ACCESSORIES:
Wall mount
Integrated camera system Zeiss Medilive

Integrated camera head
Medilive Camera Control Unit
White Balance adjustment
Light intensity adjustment
Video OUT: 1x S-Video(Y/C), 1x Video Out

MORA Interface: allows you to maintain a comfortable upright viewing position at all times, regardless of the angle of the system
Focusing objective lens f=250 mm
OPMI PICO Optics
Inclinable binocular tube 0-180°
Optional:
Stereo-CO-Observation Tube
TECHNICAL SPECIFICATIONS:
Zoom adjustment: from 2,72x to 17x
Magnification of the eyepieces: 10x
Inclined binocular head with adjustable angle from 0 to 180 degrees
Objective lens focal length: f=250 mm (Focusing objective lens)
Manual adjustment of zoom and focus
Adjustable light intensity
Halogen light source with fiber optic
Back-up lamp module with the halogen lamp included
Main illumination: Halogen 12V/100W
Emergency lamp: Halogen 12V/100W
Power supply: 115/230 V / 50-60 Hz
Dimensions:
DEAR CUSTOMERS, WE SHIP OUR EQUIPMENT WORLD WIDE!