Surgical Microscope Zeiss OPMI 111 for Dentistry
To see the pictures at higher resolution, click the image below.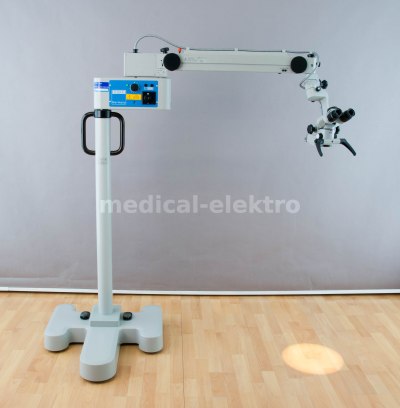 Producer:
ZEISS
Model:
OPMI 111
Technical condition:
Very good

Available

Price Inquiry
Description
Used, refurbished, manually controlled surgical microscope Zeiss OPMI 111 on a S21 floor stand.
This microscope is fully functional and in very good condition.
We sell equipment which is tested several times. We check and fix all the parts that require it. To be sure, we test our devices once more before shipment to the customer.
ACCESSORIES:
Ergonomic handles
Inclinable binocular tube 0-180
Objective lens focal length: f=250 mm APO T*
Floor stand
Optional:
LED light source 50W
Camera System
Stereo-CO-Observation Tube
TECHNICAL SPECIFICATIONS:
Manually controlled microscope:
Manually controlled zoom and focus
Manual light adjustment
Tilt
Parameters:
Zoom adjustment: from 2,72x to 17x
Magnification of the eyepieces: 10x
Objective lens focal length: f=250 mm APO T*
Inclined binocular head with adjustable angle from 0 do 180 degrees
Light source with fiber optic
Back-up lamp module with halogen lamp included
Main illumination: Halogen 100W
Emergency lamp: Halogen 100W
Power supply: 115/230 V / 50-60 Hz
Dimensions:
Height of the microscope:

minimum: 160 cm
maximum: 192 cm

The maximum distance from the objective lens to the column: 120 cm
Base of the stand: 72 x 64 cm
DEAR CUSTOMERS, WE SHIP OUR EQUIPMENT WORLD WIDE!